B.C's Sunshine Coast Trail has made multiple top-trail lists and the new George Gibsons Marine Residences is at the gateway to this network. Gibsons Landing, just five minutes from the Langdale BC ferry terminal sits at the head of a coast trail network that offers a remarkable number of all-season recreational trails for hikers, cyclists, and paddlers.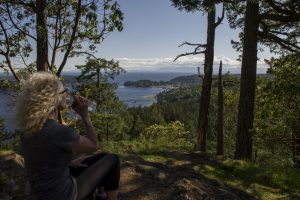 The 180 km. Sunshine Coast Trail is Canada's longest hut-to-hut hiking trail and is growing in worldwide popularity and even offers winter x-country trails. The Sunshine Coast is home to the annual BC Bike Race, dozens of mountain biking trails, and the new year-round Coast Gravity Park featuring a shuttle-serviced downhill mountain bike park with 12 trails. The Coast is also part of the new Salish Sea Marine Trail, a saltwater route designed for paddle-craft and small boats. When completed in July 2017, the 257-kilometre Salish Sea Marine Trail will connect Vancouver Island with the Gulf Islands, to Howe Sound and nearby Horseshoe Bay.
Cultural guided trail tours are also available. The shíshálh Nation hosts a unique cultural "Talking Trees Tour" through Porpoise Bay Park and Talaysay Tours offers kayaking tours, including one that points out some of the ancient petroglyphs. If beaches and lakes are your preference, there are dozens of accessible beaches along the coast. There are six beaches in the Gibsons area within walking distance of the George Marine Residences, and multiple inland fresh-water lakes in the region.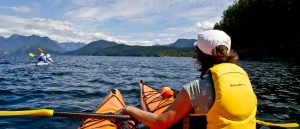 If you love the outdoors and are thinking about a new lifestyle or luxury condo on the Sunshine Coast, plan a visit today. The temperate weather keeps everything green all year round!