When George Gibson set foot on the shore of today's Gibsons Landing in May 1886, little did he know that 130 years later a first class boutique hotel and a collection of luxury waterfront residences would bear his name. Being the first innkeeper and postmaster in the area, it seemed fitting for the developer Klaus Fuerniss to name the waterfront project he has been planning for over a decade, the George Gibsons Marine Resort Hotel and Residences.
After retiring from the Royal Navy, Gibson and his family headed west from rural Ontario just before the "last spike" was completed in Port Moody, B.C. He settled briefly in Vancouver and operated a successful market gardening business. When his sloop, The Swamp Angel was blown off course from Nanaimo, he sought refuge in the closest sheltered (Gibsons) harbour. Considered to be an "old man" in his fifties at the time, he pre-empted a parcel of waterfront land (most of Gibsons downtown waterfront today), planted orchards of apples, some of which have survived today, and set up market gardening operations. He encouraged friends to come and settle in the area, including the George Glassford and the George Hopkins pioneer families. Gibson and his wife Charlotte founded the First Methodist Church and the Gibsons Elementary School in the early 1900's. The Town of Gibsons was officially incorporated in 1929.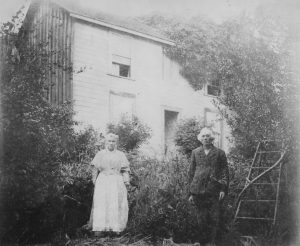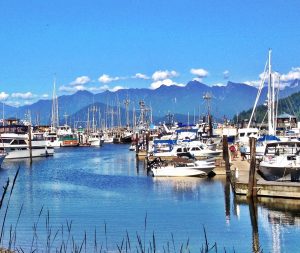 The future George Marine Resort Hotel and Residences will be located on the waterfront in this historic village waterfront condos. Future residents at the George will enjoy myriad benefits of the adjacent five star service hotel and marina, plus planned amenities that include a 10,000 square foot Spa and Wellness Centre.
Gibsons Landing is only 40 minutes by car ferry to West Vancouver or 30 minutes by passenger ferry. Live blissfully on the sunny Sunshine Coast and have easy access to the city.